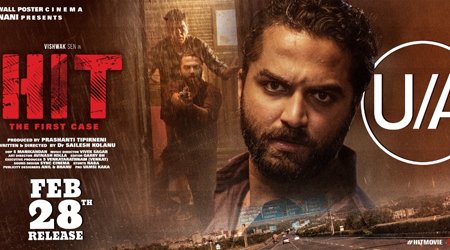 Star Cast: Vishwak Sen, Ruhani Sharma
Director: Sailesh Kolanu
Producer: Nani, Prashanti Tipirneni
Music: Vivek Sagar
Run Time: 2 hr 06 min.
Release Date: February 28th, 2020
Natural Star Nani's second production venture HIT has created enough interest among the audiences with its theatrical trailer and sneak peek. Touted to be a crime thriller, movie unit has shown immense confidence on their product. Will the hype created by the movie unit worth it. Let's find out in the review.
What about story.?
Vikram Rudraraju (Vishwak Sen) is an investigative officer who is suffering from post traumatic stress. A college going girl Preethi goes missing on Outer Ring Road due to carelessness by CI (Murali Sharma). Forensic officer Neha (Ruhani Sharma) who is the girl friend of Vikram goes missing too. Officer named Abhilash doubts Vikram in the missing case of Neha. Rest of the story is all about what happened to Preethi? What is the link between her missing and Neha's kidnap? Why Vikram is doubted? What is the story behind Vikram's traumatic stress?
How about On-Screen Stars performance.?
Vishwak Sen has the image of aggressive performer but in HIT, he toned down that a bit perfectly suited the role of an officer who suffers from traumatic disorder. He is believable in the role of an investigative officer. Ruhani Sharma is OK in her role. Love track between Vishwak Sen and Ruhani Sharma comes in as a nice refresher. Murali Sharma, Bhanu Chander, Brahmaji, Hariteja have done justice to their roles. However their screen times are limited.
How about off Screen Talents.?
Mani Kandan's cinematography perfectly suited a dark crime thriller. His work will stand out in the film. Vivek Sagar's BGM needs special mention. It is not so easy to score for a thriller but Vivek Sagar came out with flying colors. Garry BH's editing is smooth and goes well with the flow.
Sailesh Kolanu though a new director is successful in bringing in thrills with the subject he has taken. However he fails to get the emotional connect right which is very important for every movie. Though the investigation process is impressive, reason for the main crime which is heart of the movie fails to give right impression. Post traumatic attacks comes in as a deviation which doesn't go well with the audiences. Production values by Nani and Prashanti Tipirneni are superb.
Plus
Vishwak Sen's performance
First half
Back Ground Music
Visuals
Twists which come in at regular intervals
Minus
Weak Climax
No proper justification for crimes
Slows down in mid second half
fails to get emotional connect right
Verdict
HIT is a thriller which has its moments. The movie starts off in an interesting note. In fact the entire first half is dealt in an interesting manner. Post Interval, first 20 minutes of second half is impressive too. But after that the film creates dragged feel. Unnecessary deviations from the story bogs down the feel that movie has carried up to that point. However Climax is OK and the lead to second part is fine too. Reason behind the crime is not that convincing. Overall HIT has its own problems but it is not a movie that can be ruled off completely.
Reaction at Intermission:
Riveting first half, it's a crime investigation story by intelligent cop Vishwak Sen who suffers from post-traumatic stress. Vishwak's performance is impressive.
End credits:
Weak climax, could be a better justification for the crimes. Even though it has all the good elements of a crime thriller it lacks a convincing point that brings it all together. Feels a bit dragged for 15 mins in mid second half.
Boxoffice70mm.com Rating: 2.75/5