Film: Bheeshma
Cast: Nithin, Rashmika Mandanna, Jisshu Sengupta, Ananth Nag, Vennela Kishore, Brahmaji, Avanthika Mishra, Hebbah Patel, Sudarshan, Raghu Babu and others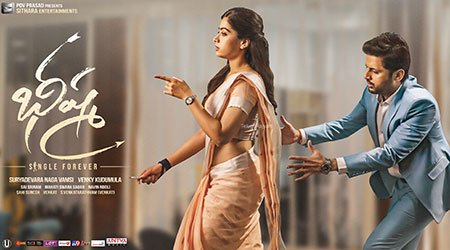 Film: Bheeshma
Cast: Nithin, Rashmika Mandanna, Jisshu Sengupta, Ananth Nag, Vennela Kishore, Brahmaji, Avanthika Mishra, Hebbah Patel, Sudarshan, Raghu Babu and others
Music: Mahati Swara Sagar
Cinematography: Sai Sriram
Editor: Navin Nooli
Art: Saahi Suresh
Fights: Venkat
Producer: Suryadevara Naga Vamsi
Written and Directed by: Venky Kudumula
Release date: Feb 21, 2020
What's it about!
A meme creator named Bheeshma (Nithin) is poor in studies but good at generating humorous lines and grasping anything easily. He uses putted for the past tense of 'put'. He falls for the beauty of Chaitra (Rashmika) who is working in a company named Bheeshma Organics run by Bheeshma (Ananth Nag). While he's trying hard to impress Chaitra, situations lead that he becomes the operational CEO of Bheeshma Organics for 30 days. He has the opportunity to take charge as the full-time CEO of the company as well provided he should prove his worth in a month. Will he prove? And how did he get the chance and why?
Analysis
First things first, 'Bheeshma', as the trailer suggested, doesn't boast a unique plotline or use a different screenplay or narration but relies more on providing entertainment. It sure does succeed in generating laughs. In fact, there are a couple of hilarious comedy scenes in the second and third acts that have made us forget about the preceding proceedings.
Rashmika plays a prank on Nithin by giving a wrong mobile number to him and this leads to an LOL comedy scene. This comes in the first half. Then several entertaining moments keep coming from the very beginning of the second half: a satire on 'Bichagadu' movie sequence with 'Gaali Vaanalo' song in the background sets the fun mood. A boardroom scene where Nithin motivates corporate employees using WhatsApp forwarded ideas also brings the house down. A scene where Nithin and Rashmika travel through a series of tunnels also leads to another LOL moment and a spoof on Hollywood movie 300 using as a sex fantasy brings smiles.
There are also other comic lines that are hilarious. When Vennela Kishore sprinkles water on his pula chokka, Raghu Babu asks why he's doing so. Pat comes the reply from Vennela Kishore: "Shirt meedunna poolu endipovaddani". Then there is another line, "Tanake ledani Akka Atukulu Tintunte… Chelli Vochi Chicken Biryani Adigindata."
By now, you must have grasped it that writer-director Venky Kudumula has presented the movie using undercurrent humor throughout. While some scenes are rip-roaring hilarious, other scenes are just passable. But the comedy is present till the end. With Nithin taking the charge from the front on comedy portions, actors like Vennela Kishore, Sampath, and Raghu Babu have lent support to him.
As said before, despite having a theme of the importance of organic farming, director Venky Kudumula has packaged it in the typical commercial formula to play it safe. Thus he used entertainment as his main strength.
The subject of organic farming is not handled well. And the villain's angle is weak. Plus, the screenplay is predictable. The final portions also seem rushed.
After a long gap, Nithin has got a role that used his strengths as an actor. He is always good at playing fun characters and he has pulled it effectively here. Also, his crackling chemistry with Rashmika on screen is a treat. Rashmika on her part has done the role well. Vennela Kishore shines again and provides comedy well.
The surprise is Sampath in a comedy portion. Kannada senior actor Ananta Nag has a dignified look that needs for the role of a corporate guy with an ethical outlook. Jisshu Sengupta is okay as a villain. Ajay, Hebba and Narra Srinu in the climax provide some comic relief.
On the technical front, cameraman Sai Sriram scores points with his rich visuals. Music is okay. Director Venky Kudumula shows his strength in comedy writing again.
Bottom-line: 'Bheeshma' provides a good time pass entertainment. More than the plotline, comedy portions have worked out well. Despite predictable screenplay and uneven first half, the post-interval scenes and Nithin's comedy act make it a fun watch.
Boxoffice70mm.com Rating: 3/5